Mô tả sản phẩm
Sturdy and functional design, choose the BEST for you
Storage of many product is possible for desiccator in the circumstances of optimum temperature and humidity atmospheric composition. Desiccator of Shin-ei is made of based on aluminum frames and plastic plates, lineup with a various large type(780Liter) to a small type(90L) of volume.
Also, the aluminum stainless steel compound board models which can against static electricity, the colored acrylic resin models which can block the ultraviolet, the vacuum models made of acrylic resin or stainless steel etc… we can make so many desiccators.
Appearance and basic specification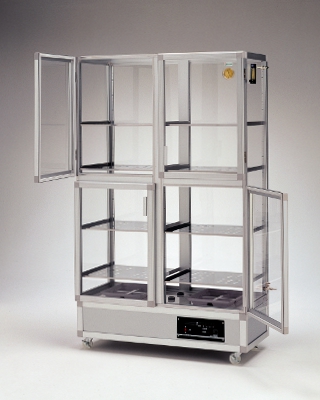 * Desiccator MK-780CD
Magnet sealing door

The door is magnet sealing, so it can open and close easily single hand.

Ball cup

Big and medium sizes desiccator equip the socket for gas piping standardly.


Aluminum frame

The extrusion frame which performed alumite treatment.

Coner

The safety designed which gave strength by the synthetic resin containing glass fiber.

Purge flow

Attachment for the monitors of inactive gas or dry air is possible.

Gas fillings valve

When gas piping needs to be connected, attachment to a socket is possible.

Shelf boards rail

The design which implemented surface grinding to SUS430 and was excellent in intensity and wear resistance.

Thermometer and hygrometer

Attachment by the analog and a display format digital two kinds of meter is possible.

Castors

Caster with a stopper of 65mm sizes, made of nylon.
List of the models
Gas exchange models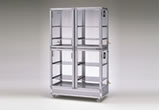 N2 gas-control Desiccator
Wagon models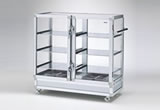 Wagon desiccator
Vibration absorption wagon Desiccator
Stainless models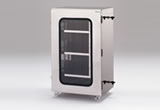 Stainless Desiccator
Vacuum models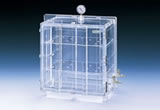 Acrylic resin Desiccator
Vacuum models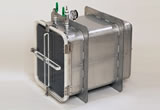 Stainless Desiccator
Electrostatic discharges model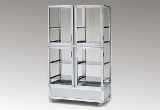 Electrostatic discharges Desiccator
Tags: Tủ hút ẩm, Desiccators, Shin-ei